IPS-173-V4/5
Dodge Viper SRT (2008-2017) Upgrade Billet Under Drive Crank Pulley

High Quality made in America. All Pulleys are CNC machined from aircraft 6061-T6 aluminum. Lighter stronger Pulleys. Sold with correct belt. Small pulley is much less work for your engine to turn - giving you more HP to the power train. Estimated 10-12 HP


ADD Throttle response to your V-10 with our new T6061 Billet Under-drive Pulley! Machined here in the USA from T6061 billet aluminum, dropping from the factory diameter pulley to our under-drive pulley slows down the unnecessary amount of power to the accessories, thus adding free HP and dropping your quarter mile times! During testing we have seen on average 5-10 RWHP, and a tenth or two quicker in quarter mile acceleration. This ONE PIECE PULLEY made of strong billet comes with new bolts (when necessary).



* SRT 4/5 Under Drive Pulley comes with M8 X 1.25 bolts

Use 1 inch shorter Belt needed available from local auto store. Not included.
Smaller, Lighter - Stronger Gain 10 HP!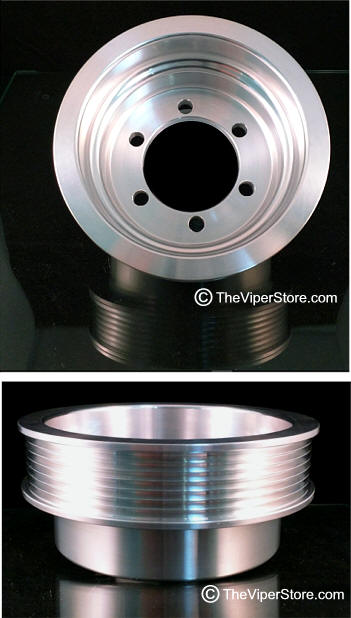 $ 249.00 each
Price subject to change without notice



Special Order
25% Restock Fee on Returns
Return Policy

1-2 week delivery

If you are having trouble ordering online: Please call us at 352 688 8160



$ 19.95

We welcome our many Overseas Customers!
More Shipping Info Click Here