IPS-428
Dodge Viper (2013-2017) Lowering Caps - Set of 4

0.50" lower
These Spring Lowering Caps are made from 6061 Aircraft Aluminum. Low profile spring caps are an easy way to lower the ride height by .375″ to .50″ by replacing the thick OEM spring caps. Does not change the ride comfort while lowering the fender gap.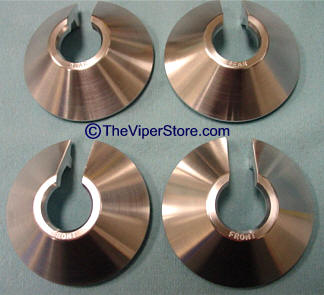 $ 279.00 Set of 4
Price subject to change without notice


15% Restock Fee on Returns
Return Policy

1-2 week delivery

If you are having trouble ordering online: Please call us at 352 688 8160
$ 18.95


Ground
We welcome our many Overseas Customers!
More Shipping Info Click Here


IH-VIP-BJ40

Lower: 22408X

Upper: 22310X
Dodge Viper (2013-2017) Ball Joints - Vastly Improved!
New and improved Howe Zero Friction Viper ball joints with both upper and lower fitments. The product is the culmination of innovation, testing, and market research. The new design allows all ball joints to be greased, especially the rear lower ball joints that can be serviced without the removal of the half shafts. The other innovative part of the new ball joints is a totally from the ground up high temp grease boot and with spring clamp that will keep the boot in place.
With the installation of all eight joints, the car will be more nimble and responsive to other upgrades such as shock absorbers and sway bar adjustments. What a difference.
These ball joints do not come greased you must grease them before use.
NOTE: These ball joints do not come greased you must grease them before use.
It is recommended to grease all ball joints with Red Line Oil CV2 Synthetic Grease before the car is lowered to the ground.
The joints are not lubricated as delivered and should always be grease before the wheels are installed.
Vastly Improved!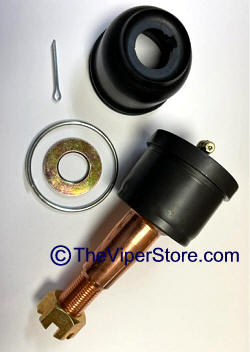 Lower shower

$ 199.00 each
Price subject to change without notice

15% Restock Fee on Returns
Return Policy

1-2 week delivery

If you are having trouble ordering online: Please call us at 352 688 8160
$ 16.95

We welcome our many Overseas Customers!
More Shipping Info Click Here