JU-82213535AB
Dodge Viper SRT (2013-CURRENT) Harmon Kardon Upgrade Speaker System


Double your Quality!

The Dodge SRT Viper Speaker Upgrade (replaces y our current speakers) offers a more vibrant stereo sound, bigger bass, and cleaner highs. Upgrade from 9 speakers to 18, the same as the production Harmon Kardon system. This upgrade will definitely enhance the sound system of your Viper! Includes center dash speaker, door speakers and grilles and subwoofers.



Customer Testimonial:
"I still can't get over how good the factory 18 speaker stereo is, especially when connected to your ipod/iphone. SRT and Harmon Kardon really knocked it out of the park with the stereo. The clarity and bass is something you would NEVER expect from a Viper, to the point that even other Viper owners will ask if I have an aftermarket setup! Best upgrade I ever did."
Steve D.

WOW! What a difference in Sound Quality!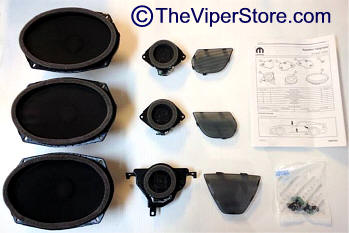 Installation Instructions

$ 595.00
Price subject to change without notice

Special Order
25% Restock Fee on Returns
Return Policy

1-2 week delivery

If you are having trouble ordering online: Please call us at 352 688 8160

$ 34.95



We welcome our many Overseas Customers!
More Shipping Info Click Here