SCR-RC34
Dodge Viper (2003-2006) Special Anode Radiator Cap 18psi
The Very Best thing you can do for your Viper Radiator!

This cap features a sacrificial anode that stops Electrolytic Metal Erosion (EME) inside the cooling system of your Viper's engine. The cooling system of a Viper (and many other cars) carries a slight positive charge. This charge will cause erosion of the aluminum components in contact with the coolant. The sacrificial anode is immersed in the coolant tank and because it's a "softer" metal, the EME attacks it instead. Extends the life of all metal components in the coolant system. You'll be stunned to see the corrosion it begins to show after just two weeks. The anode will be eroding out instead of your engine.

This item is for one Anode Radiator Cap.

Detailed Explanation of Electrolysis

Does not fit 2008-10 Viper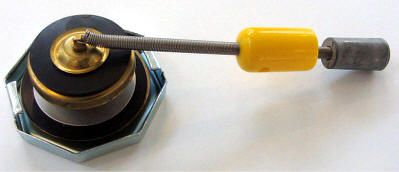 Protectant Cover shown slid above anode




Save your Radiator - Keep it Clean
Automatically!

$ 36.95

15% Restock Fee on Returns
Return Policy
1-2 week delivery
If you are having trouble ordering online: Please call us at 352 688 8160
$ 9.95



We welcome our many Overseas Customers!
More Shipping Info Click Here


SC-RC35
Dodge Viper (2008-2010) Special Anode Radiator Cap

20

psi
The Very Best thing you can do for your Viper Radiator!

This cap features a sacrificial anode that stops Electrolytic Metal Erosion (EME) inside the cooling system of your Viper's engine. The cooling system of a Viper (and many other cars) carries a slight positive charge. This charge will cause erosion of the aluminum components in contact with the coolant. The sacrificial anode is immersed in the coolant tank and because it's a "softer" metal, the EME attacks it instead. Extends the life of all metal components in the coolant system. You'll be stunned to see the corrosion it begins to show after just two weeks. The anode will be eroding out instead of your engine.

This item is for one Anode Radiator Cap.

Detailed Explanation of Electrolysis

Does not fit 2003-06 Viper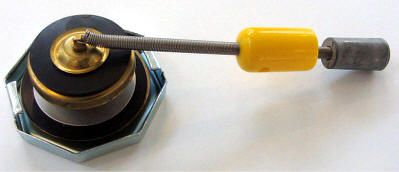 Protectant Cover shown slid above anode




Save your Radiator - Keep it Clean
Automatically!

$ 36.95

15% Restock Fee on Returns
Return Policy
1-2 week delivery
If you are having trouble ordering online: Please call us at 352 688 8160
$ 9.95




We welcome our many Overseas Customers!
More Shipping Info Click Here