New short stick kit for 2004-2006 Dodge Ram SRT-10 w/ T-56 6-speed manual transmission:
Only fits SRT-10 model (V10 Viper engine) -

no other Ram models

!
Kit includes Hurst stick, knob, & special 10mm mounting hardware
Direct swap onto stock (Hurst OEM) shifter base, not designed to work with previous modifications

(not intended for aftermarket shifter bases)

Knob height is 2.5" lower than stock = 13% throw reduction!
NOTE: stock knob has 10mm x 1.50 threads and CANNOT be used with this stick

You must use the included knob, or any knob with 3/8"-16 threads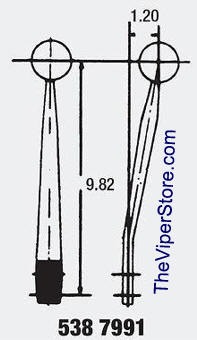 Stick & knob info:
Supplied stick is Hurst # 7991, chrome-plated steel, 9.82" tall, with 1.2" lateral offset (OE Hurst shifter base stub has a stick mount angled 30 degrees toward driver). 3/8"-16 knob threads (knobs in the OE 10mm x 1.50 thread will NOT fit).
Knob is black with imprinted shift pattern (supplied in many Hurst kits), "Hurst" on sides. Jam nut is included.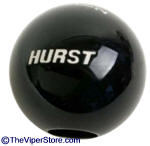 Side View