SUM-DAK-MMR1
Dodge Viper Review Mirror Replacement - With Compass and Temperature

Rear view mirrors have an outdoor temperature indicator and a path point compass system. The temperature indicator accurately displays from -31 degrees to 131 degrees, +/- 3 degrees F, and the compass displays vehicle headings of N, NW, W, SW, S, SE, E, and NE. Their great looking vacuum fluorescent digital display.

A switch on the mirrors selects temperature or compass reading, and the
night vision safety feature provides auto dimming when dangerous glare
from vehicles traveling behind you hits the mirrors. Needs to be wired in down through the windshield post.
With Compass and Temperature Readout


$ 329.00

Special Order
35% Restock Fee on Returns
Return Policy
1-2 week delivery
If you are having trouble ordering online: Please call us at 352 688 8160

$ 16.95



UPS Ground
We welcome our many Overseas Customers!
More Shipping Info Click Here


IH-RVS-778718N
Dodge Viper Review Mirror Replacement - With Back up Camera System

G-Series aftermarket Rear View Replacement Mirror Monitor. It is self contained. Hook up the power and it does it all itself. Your car doesn't need anything. Simply wire it into your rear back up lights.

Our OEM Style Mirror Monitor provides ultimate performance together with a clean, factory like install. It attaches to the windshield, either connecting to, or replacing the existing rear view mirror (see item options) and its bright screen and reflective ability contribute to an all-in-one backup experience. It comes with a 4.3 Color TFT Digital Display and its distance grid lines are optional and adjustable. Needs to be wired in down through the windshield post.

* 4.3" Replacement Mirror Monitor
* Distance Grid Lines for Backing Up Reference
* Camera Easily Mounts to License Plate connected by wire
* 170° Ultra Wide Viewing Angle
* Completely Waterproof Camera - IP68
<![endif]-->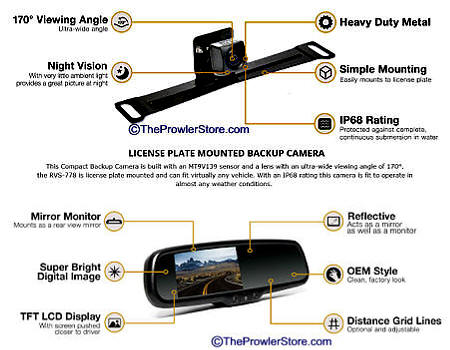 Back up System with monitor in your Rearview Mirror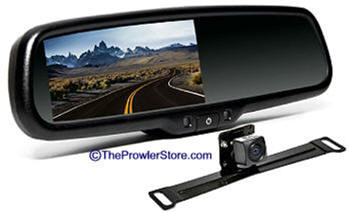 Larger Photo Click Here

Want the convenience of a backup camera displayed on your mirror but like the features on your factory rear view mirror? With this replacement mirror monitor there will be no sacrificing! You can replace your rear view mirror, display your backup camera and still get features like auto-dimming, compass and temperature! With all these built-in features, replacing your rear view mirror has never been easier!

<![endif]--> The backup camera is completely waterproof with an IP68 rating and boasts excellent night vision. The system comes included with all parts necessary for installation and a one year warranty.


Needs to be wired in down through the windshield column post.

* 4.3" Replacement Mirror Monitor
* Auto Dimming reduces glare from reflected headlights.
* Equipped with built in compass and temperature
* 170 Ultra-side viewing angle and excellent night vision.
* Completely water proof camera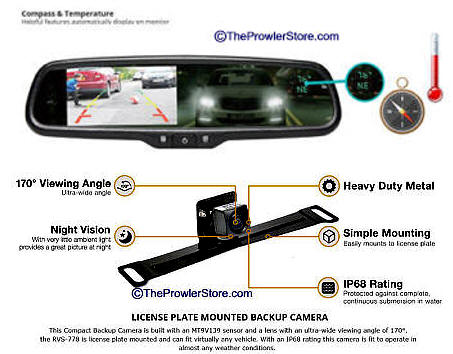 <![endif]-->
Back up Camera System with Compass and Temperature
ALL in One!

Larger Photo Click Here
$ 549.00

Special Order
35% Restock Fee on Returns
Return Policy
1-2 week delivery
If you are having trouble ordering online: Please call us at 352 688 8160
$ 16.95


UPS Ground
We welcome our many Overseas Customers!
More Shipping Info Click Here