DODGE Viper SRT10 Exhaust Port Bezels 2pc
PART ACC-972005
INSTALLATION INSTRUCTIONS
PARTS INCLUDED: 2 x Stainless Bezels, 1 x Adhesive Promoter Tube, 1 x Tape Test Kit
Your new covers come to you with a protective liner. Do not remove liner until installation is complete.
These new bezels are made of high polished stainless and are a 26 gauge metal which will allow you to form them nicely into place with very little effort in just a few simple steps.
1. The first step will be to prepare the mounting area for installation. Thoroughly scrub clean the circular opening with alcohol to remove any and all road grime dirt and wax.
Then swipe the area once with the adhesive promoter provided.
2. The bezels come to you preformed however it WILL be necessary to further shape the bezel by hand until you achieve a nice contoured fit. The most critical area will be towards the bottom and will require the most effort. Since the metal is very thin you will be able to smooth the bezel with your fingers pressing it into the shape using your thumb.
3. You will notice that each of the bezels have a line that indicates the top. You will also notice that the bezels have a larger side to the oval shape. This larger side will face the front of the vehicle. Once you have the proper bezel you can begin the hand shaping.
4. Now that you have successfully formed the bezels simply remove the red release liner from the back of the bezel and firmly press into place starting at the bottom and working your way to the top. Remove the clear protective liner.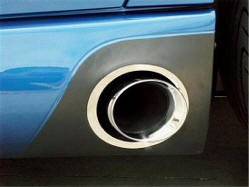 Chrome Exhaust Tip sold separately


TheViperStore.com a HotCarAccessories.com website

Copyright 2005 - 2023
13 copyright