DODGE VIPER SRT10 Door Jam Chrome Screw Covers©
Part# ACC-971003
INSTALLATION INSTRUCTIONS
Included: 12 x Chrome Cap Covers

Needed: Tube of clear silicone adhesive found at any hardware department.

Your new button kit has been shaped and assembled of high grade triple chrome plated covers designed to be adhered in place using clear 100% household silicone.
This type of adhesive is very reliable and will make for a very simple installation.

This is a simple and unique dress up kit that will change the appearance of your Viper door Jams and create a nice clean custom look.
1. Thoroughly clean each of the Philips screw heads in the Door Jam area first with Rubbing alcohol to remove any dirt or oily residue.
2. Each of the decorative Chrome Covers will set nicely in place on top of the factory screw heads. In order to install them simply apply a small dab of clear adhesive clear silicone. to the under side of each Chrome Cap and set them in place on top of the factory screw heads. Allow about an 3 hours for the silicone to set.
TECH TIP: Be careful not to apply too much silicone as this will tend to seep out the sides of the cap cover. If this occurs do not try to wipe it away as that will cause a mess. Simply allow the silicone to dry completely then just peel it away leaving a clean surface.
<![if !vml]>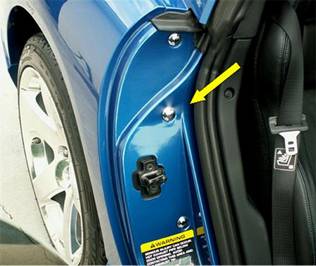 <![endif]> If any questions occur during installation, please contact: admin@TheViperStore.com.

TheViperStore.com a HotCarAccessories.com website

Copyright 2005 - 2023
13 copyright