DODGE VIPER TAG FRAME Gen I & 2
PART ACC-962005 (Years 2001&2002)
PART ACC-962006 (Years 1994-2000)
INSTALLATION INSTRUCTIONS
Items Included:
1 x Stainless Steel Tag Frame, 1 x Keyhole Cover Cap with key attached, 2 x Screw Sockets, 2 x Chrome Screw Covers, 2 x Stainless Screws
1. Remove your current license plate.
NOTE: Your stock plate screws will not be reused.
2. You will notice two Velcro strips on the backside of your new tag frame. Peel the liner off of these before positioning. This Velcro will eliminate any vibrations.
3. Be sure to position the frame over the two attachment holes and screw it down using the two stainless screws and screw sockets (provided). BE CAREFUL NOT TO OVER TIGHTEN. Snap chrome screw covers (provided) over the screw sockets. Push in keyhole cover.
Note: Care must be taken when cleaning your cover. It is a good idea to lightly dust your cover with a clean soft cloth first in order to prevent any particles from scratching it. Then wipe (using a new clean soft cloth) with a good quality streak free glass cleaner.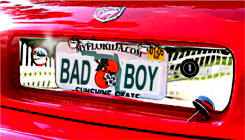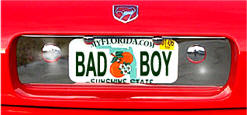 TheViperStore.com is a HotCarAccessories.com site
Copyright

Copyright 2005 - 2023
1

3