DODGE VIPER Gen I & II (92-02) Inner DOOR SILLS
PART ACC-961005 (Brushed Finish) patent pending and
PART ACC-961006 (High Polished ) patent pending
INSTALLATION INSTRUCTIONS
Items Included: 2 x Doorsills; 2 x Adhesive Promoter
Note: Your new sills come to you with a protective liner.

NOTE: THIS IS A PERMANENT INSTALLATION AND THE NEW DOORSILLS CANNOT BE REMOVED WITHOUT DAMAGING THEM.
<![if !vml]>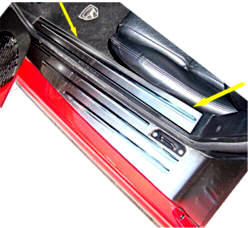 <![endif]>Your new doorsills come to you with a protective liner. DO NOT remove the liner until step 5.
Thoroughly clean the surface first with soap and water then with household isopropyl alcohol.
Then swipe the same area with the adhesive promoter (provided). This promoter will guarantee a good permanent bond.
It may be necessary to fit these sills by squeezing or opening them to insure a proper fit.
When you are satisfied with the fit, remove the red liner from the attachment tape and press firmly.
IT IS VERY IMPORTANT THAT YOU SLOWLY INSERT THE SILLS INTO PLACE. THE ATTACHMENT TAPE IS VERY RELIABLE AND IT MIGHT BE A GOOD IDEA TO MAKE A COUPLE OF TEST FITS BEFORE PULLING THE RED LINER!
YOU HAVE ONLY ONE SHOT AT THIS SO GO SLOWLY!
Once in place remove the protective liner. Repeat steps 1-5 for the opposite doorsill.
If you have any questions during installation please contact us at :admin@TheViperStore.com

TheViperStore.com is a HotCarAccessories.com site
Copyright
Copyright 2005 - 2023
13