DODGE VIPER Gen I & II (92-02) Outer DOOR SILLS
PART #ACC-961002 (Brushed Finish) PART #ACC-961001 (High Polished )
INSTALLATION INSTRUCTIONS
Items Included: 2 x Doorsills; 2 x Viper Logo Stickers; 2 x Adhesive Promoter
Note: Your new sills come to you with a protective liner.
Do not remove liner until step 3.
1. Clean sill area first with soap and water to remove any dirt. Then clean the sill area with household rubbing alcohol. Let dry.

2. Then wipe area once with the adhesive promoter (provided). Be careful to only apply the promoter to the exact area where you are going to stick the door sills. The promoter could damage your paint.
3. Position the large part of the sill into position and line it up with the door catch hole. Make note of its position. Although your new sill comes to you preformed it will be necessary to adjust the form slightly by hand in order to achieve a nice snug fit without forcing.

4. It is a good idea to make several dry runs at positioning the sill before you take the red liner off the back. The attachment tape is very aggressive and will only allow you ONE SHOT AT A FINAL POSITION.
Once you are satisfied with the fit, remove the red liner from the back of the new sill and very carefully position sill. Set the sill down lightly on the car sill and make any minor final adjustments. Once you are satisfied, press down firmly along the entire sill.

5. Once you have successful installed the large section, install the smaller section in exactly the same manner. Be sure to line up the two pieces so that there is no gap between the two. Remove protective liner. Repeat steps 1-3 for the opposite side.

Note: Once mounted the doorsills can not be removed without destroying them.
Note: Care must be taken when cleaning your doorsills. It is a good idea to lightly dust your sills with a clean soft cloth first in order to prevent any particles from scratching them. Then wipe (using a new clean soft cloth) with a good quality streak free glass cleaner.

<![if !vml]>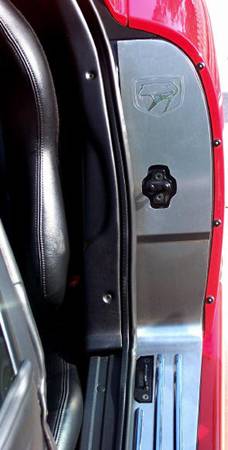 <![endif]> <![if !vml]>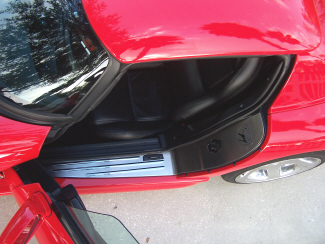 <![endif]> <![if !vml]>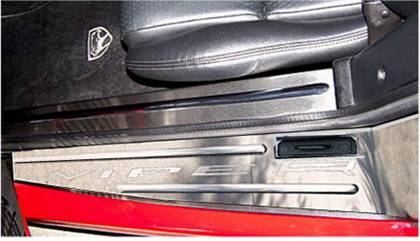 <![endif]>
Page 1 Page 2
Page 1 of 2
TheViperStore.com a HotCarAccessories.com
Copyright
Copyright 2005 - 2023
13