NWE-V2SLK-2N
Dodge Viper RT-10 or GTS (1992-2002) Seat Lowering Kit - 2" Non-Adjustable


Replaces stock seat mounting system under your seat. Attaches to your stock seat. Lowers seat about two (2) inches. Seat will be in a fixed non-adjustable position. High quality product produced in America.
Where is seat fixed at?
1992-2002 Vipers: 2-in. drop, fixed position kits place the seat as far back as the factory slider allows.
Each kit consists of (4) stainless steel welded parts that attach to the existing floor mounts and are NOT adjustable.
Chose:
GTS Coupe (96-02)
RT-10 Convertible (92-96)
RT-10 Convertible (97-02)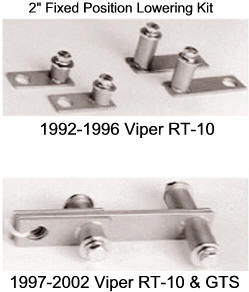 more pictures of product click here
$ 299.00
Special Order
Not Refundable
2 week delivery

If you are having trouble ordering online: Please call us at 352 688 8160

$ 16.95




9"x6"x2", 2 lbs
We welcome our many Overseas Customers!
More Shipping Info Click Here



2 lbs