This frame has opened up into a Separate Window



DODGE RAM SRT10 PLENUM COVER
PART # SPECIAL ORDER patent pending
INSTALLATION INSTRUCTIONS
PARTS INCLUDED:
1-Stainless Plenum Cover
1-Adhesive Promoter Pack
1-Test Kit
Your new cover comes to you with a protective liner. Do not remove liner until installation is complete.
Prepare the surface of the plenum by severely scrubbing the rough surface with acetone to remove any dirt and road grime. Swipe the entire area once with the adhesive promoter provided. You have been provided with an adhesive test kit. Use the sample adhesive tape from the kit to check the tack. If you are able to achieve a strong tack you may proceed with the rest of the installation. If not see special instructions attached.
PLEASE NOTE: Because the plenum is constructed with a varying compound curve to it, you will not be able to completely cover the attachment area. The design will sit nicely to the front and down the sides a little more then half way down. This plenum cover has been designed to fit under the SRT False Firewall so the small area towards the back that will be slightly detached will not be seen. Place the plenum cover in position to get acquainted with not only its position but how you will go about placing it. At this time you can make any small adjustments by hand in order to achieve the best possible fit. Once you are satisfied with the fit peel the red release liner and carefully reposition the cover pressing firmly to set the front first as you firmly work your way down the plenum cover.
Remove the protective liner.
If any questions occur during installation please call American Car Craft at 727 861-1500.
CARE AND MAINTENANCE:
Note: Care must be taken when cleaning your cover. It is a good idea to lightly dust your cover with a clean soft cloth first in order to prevent any particles from scratching it. Then wipe (using a new clean soft cloth) with a good quality streak free glass cleaner.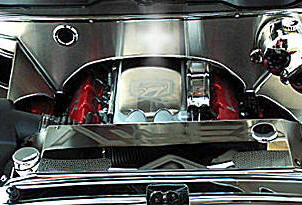 Copyright 2005 - 2023
0

8 copyright
TheViperStore.com is a HotCarAccessories site a division of emagineit, inc.
This frame has opened up into a Separate Window