DODGE RAM SRT10 Rear Bumper Step
PART # ACC-342001
INSTALLATION INSTRUCTIONS
PARTS INCLUDED:
1 x Stainless Bumper Step
1 x Adhesive Promoter Packet
PLEASE NOTE THIS IS A PERMANENT INSTALLATION AND THE NEW BUMPER STEP CANNOT BE REMOVED WITHOUT DAMAGING IT.
Your new bumper step comes to you with a protective liner. DO NOT remove the liner until installation is complete.

1. Thoroughly clean the surface to be mounted first with soap and water then with household isopropyl alcohol.
Then swipe the same area with the adhesive promoter (provided). This promoter will guarantee a good permanent bond.
Position your new bumper step in place and make note of its position. Once you have noted its position remove the red liner from the attachment tape on the underside of the step and reposition. Press firmly to set. Remove protective liner.
If you have any questions during installation please call us 352 688 8160 M-F. Thank you and enjoy your new purchase.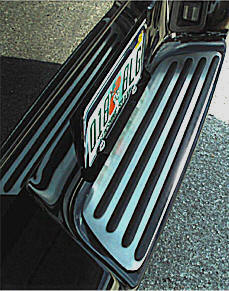 Copyright 2005 - 2023
14 copyright


TheViperStore.com is a HotCarAccessories