<![if !vml]>

<![endif]>
This Frame has opened up into a New Window

DODGE VIPER 1992-2002 High Polished Stainless Steel Exhaust Tips ©
Part# ACC-962014
INSTALLATION INSTRUCTIONS
Included: 2 x Stainless Steel High Polished Exhaust Tips with attached clamps

1. Carefully open your Exhaust Tips. You should have two with attached clamps.
2.. Ensure that your car has not run in the last hour or so to be sure the exhaust is cooled to normal temperature.
3. Put something down to lay on under your cars back end. Take one exhaust tip and carefully slid it on to one of the stock exhaust tips. Go slowly. (You will probably want to pull down the foil insulation under the exhaust tips slightly to give yourself more clearance.) Slide the tip as far back as it will go to the muffler. Be sure that front of the tip covers the old stock tip completely.
The purpose here is to become familiar with how it fits over. Move around until you have the tip exactly how you want it to be once you lock down the clamp. Is it straight, is the logo at the top?
NOTE: You will want to position the tips so that the clamp nuts are to the inside for both tips. This makes easy access.
4. Once you are comfortable with the position hold down the new exhaust tip with your hand and take a ratchet wrench for a 7/16 inch nut and tighten down the clamp firmly.
Try to move the new tip with your hands to make sure it is firmly in place.
If any questions occur during installation, please contact: admin@TheViperStore.com.
Note: Care must be taken when cleaning your new exhaust tips always wait until they have cooled down from use. Wipe down with a clean soft cloth first in order to prevent any particles from scratching it. Then wipe (using a new clean soft cloth) with a good quality streak free glass cleaner or stainless steel polish.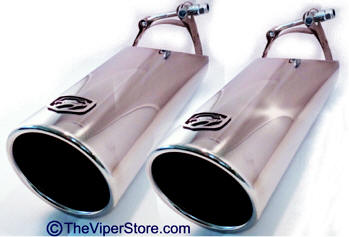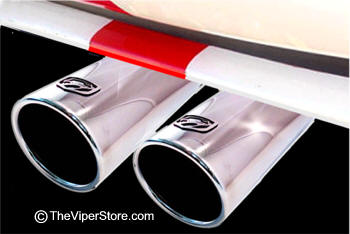 Copyright 2005 - 2023
2018 © TheViperStore.com
This Frame has opened up into a New Window