2013-Current SRT Viper
History

At a dealer conference on September 14, 2010 in Orlando, Florida, Chrysler Group and Fiat CEO Sergio Marchionne was reported to have concluded his remarks by unveiling a rolling 2012 Dodge Viper prototype. There would be no 2011 Viper. Quotes from the Detroit News from SRT CEO Ralph Gilles that hint to the future of the brand include:
"The new Viper is not based on anything else".
"The Viper cabin is very rearward and the hood is very long. Few cars in the industry are designed with those proportions anymore."
"I want the new Viper to be a more forgiving car to drive and accessible to more people. We've never had stability control on a high-performance car, which is about to happen on the new car."
The Viper was also on display for one night only in Salt Lake City, UT at the 11th Viper Owners Invitational or VOI 11 from September 30, 2010 (2010-09-30) to October 3, 2010 (2010-10-03). Ralph Gilles was present gathering feedback from the owners themselves on new exterior design of the snake. The Generation 5 badge was unveiled as well at this event on each dining table in the hall.
In Autumn of 2011, Ralph Gilles announced that the Gen V Viper would debut at the New York Auto Show in April 2012.
Public unveiling

Preliminary specifications include following:
All-aluminum 8.4-liter V-10 rated 640 horsepower (477 kW; 649 PS) and at 600 lb·ft (813 N·m), Tremec TR6060 six-speed manual transmission with final drive ratio 3.55, 50 percent improvement in torsional stiffness over previous model, electronic stability control, traction control, 4-channel anti-lock brake system (ABS), carbon fiber and aluminum skin with .364 drag coefficient (Cd), Pirelli P Zero Z-rated tires, 4-piston Brembo brakes with fixed-aluminum calipers with vented 355x32mm diameter rotors, 20 mm lower seating position, 7-inch full-color customizable instrument cluster, Uconnect RA3 or RA4 Access in-vehicle connectivity system with optional SiriusXM Travel Link, Harman Kardon audio system, bi-xenon projector headlamps with white light-emitting diode (LED) daytime running lamps and LED turn signals, LED taillamps with integrating stop-and-turn illumination and snakeskin texture lens, five-spoke forged aluminum "Rattler" wheel with fully polished (standard), fully painted Hyper Black or fully painted low-gloss black finishes. Top speed of the SRT Viper is 206 mph (331kmh). It will be the first to feature Viper's third logo, nicknamed "Stryker".
The SRT Viper GTS includes leather upholstery, accented colors in seats, doors, center console and stitching; gun metal trim on the cluster bezel, HVAC outlets, window switch bezels, shifter base, park brake bezel and the integrated passenger grab handle on the center console; Sabelt racing seats with Kevlar and fiberglass shell, carbon-fiber hood, roof, decklid and aluminum door panels, split six-spoke forged aluminum "Venom" wheels with polished face and graphite-painted pockets (standard), fully painted Hyper Black or fully painted low-gloss black finishes.
Optional SRT Track Package includes Pirelli P Zero Corsa tires, StopTech slotted two-piece rotors and ultra-lightweight wheels in Hyper Black or matte black finishes.
The 2013 SRT Viper was unveiled at the 2012 New York Auto Show.

SRT Viper GTS-R (2013–Current)
2013 SRT Viper GTS-R Le Mans LM GTE Pro Series Racing car
It is a race car designed for the GT class of the American Le Mans Series, designed and built by SRT Motorsports and Riley Technologies. It includes Michelin GT tires.
The vehicle was unveiled at the 2012 New York Auto Show.
The SRT Viper Racing team entering 2012 ALMS included Dominik Farnbacher, Marc Goossens, Ryan Hunter-Reay, Tommy Kendall, Jonathan Bomarito, and Kuno Wittmer.
2012 SEMA concept (2012)

The SEMA concept car is a version of 2013 SRT Viper coupe demonstrating Mopar products for SRT Viper. Changes include yellow body colour, carbon fiber parts at underhood, exposed carbon fiber performance cross X-Brace trimmed in a satin finish, a decal-cut Viper "Stryker" logo in the center of X-Brace, engine cover in carbon fiber and aluminum with the SRT logo, prototype aluminum oil filler cap with the SRT logo, a carbon fiber aero package, Mopar coil springs, full black interior with yellow accents, Sabelt hard-shell seats with a six-point safety harness, seat edging in black Katzkin leather with yellow accents in the perforations, Mopar billet aluminum shift knob, billet aluminum HVAC bezels and controls, carbon fiber bulkhead satchel with a universal integrated quick-release camera mount, polished chrome door-sill guards with the Viper logo, race-inspired sand-blasted aluminum Mopar bright pedal kit with the Viper logo etched in the pedals, footrest pedal with "Stryker" logo, optional "Track Pack" wheels finished in hyperblack, a front tow hook and an LED fog lamp kit.
The vehicle was unveiled in 2012 SEMA show.
The Mopar performance parts found in the SEMA concept car were sold as 2013 SRT Viper components.
2014 SRT Viper TA (2013-present)

2014 SRT Viper TA (Time Attack) package is a limited (33 units) version of SRT Viper coupe with Pirelli P Zero Corsa tires, matte black Sidewinder II wheels, two-mode Bilstein Damptronic suspension with firmer levels of damping and a smaller spread between modes than SRT Viper GTS; shock dampers, springs and road racing derived stabilizer bars retuned for optimal on-track performance; aluminum structural X-brace replaced by a lighter carbon fiber brace, brake calipers in black anodized finish with the Viper logo in Crusher Orange, Crusher Orange body colour with black 2D TA logos behind both front wheels, black Stryker logo on the front fascia, black interior with Crusher Orange accent stitching on the cloth seats, instrument panel (through the cowl), center stack, console, pull brake, shifter boot, shifter head, steering wheel and upper doors. Top speed is 206 miles per hour (331.5 km/h). In March 18, 2013 MotorTrend tested the SRT Viper TA in Mazda Raceway Laguna Seca to set a lap time against the 1.33.70 lap time holder Chevrolet Corvette ZR1. The SRT Viper TA beat the lap time in 1.33.62 seconds using Corsa Tires. The SRT Viper TA beat the original time in 1.30.78 seconds using Slick Tires.
An advanced exterior aerodynamics package includes carbon fiber front splitters and rear spoiler, while a carbon fiber rear appliqué accentuates the rear width proportions and adds another level of detail.
The vehicle was unveiled in 2013 New York International Auto Show.
Production

SRT Viper will be built in the Conner Avenue Assembly Plant in Detroit, MI with production beginning in late 2012.
Production of SRT Viper TA set to begin at the Conner Avenue Assembly Plant in Detroit, beginning in third quarter 2013
SRT Viper 2013 by Dodge...UNVEILED! 04-05-12

Order the new 2013 Viper Sales Brochure today - Click Here!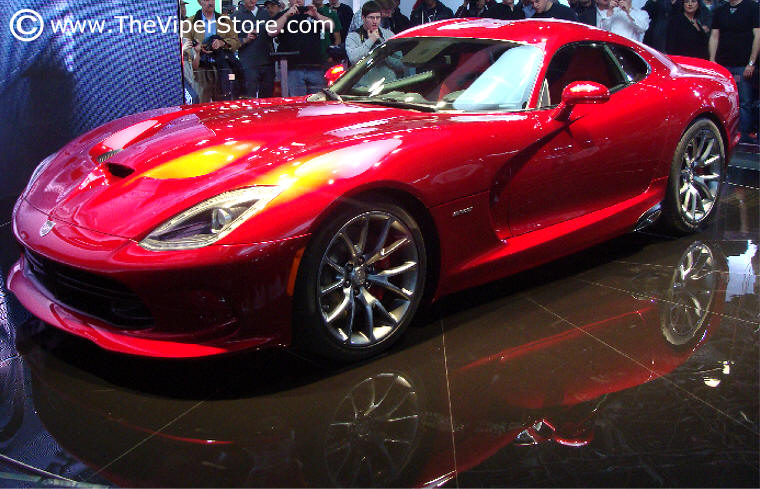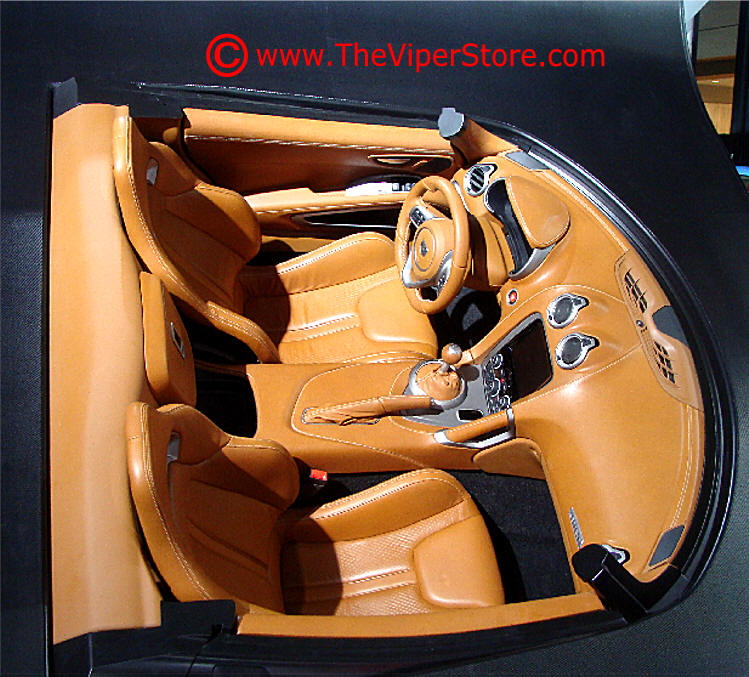 See all 52 Photos of the NEW 2013 Dodge SRT Viper "Stryker"
Click Here!

One clue as to the new V10 engine was in the Dodge Challenger V10 Drag Pak and Viper ACR-X, which share an 8.4-liter,
512 cubic-inch engine producing 640 horsepower.

New Dodge SRT Viper "Striker" Logo for Gen 5 Official Logos below: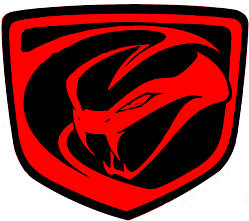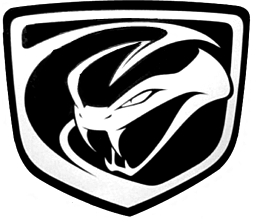 The New SRT Viper is coming in two versions. The standard SRT Viper and the upgraded SRT Viper GTS. Both cars will have the same drive train. A V-10 engine with 640 HP. The GTS will have an upgraded interior and the large hood air intakes similar to the Ford GT40. It will come in nine colors with the ninth color still to be determined.
Detailed information - See Links below. They open up into a new Window.

Complete gallery of the DODGE SRT Viper 2013